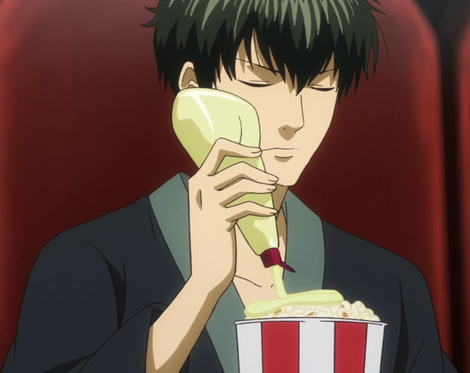 Two thoughts to start:
1: Gintama is pretty great.
2: Don't start watching Gintama unless you're willing to lose interest in every marginal simulcast.
---
Favorite episode: A shared soup pot is a microcosm of life (ep. 25)

:: 20 minutes of internal monologues as the odd jobs crew scheme to steal some stewed beef away from each other makes this an inspired bottle episode.
Runners up: The more you're alike, the more you fight (ep. 48) - Gin and Hijikata keep running into each other, also, kick the can; Love doesn't require a manual (ep. 34) - Shinapachi falls in love with a catgirl; Watch out for Conveyor Belts (ep. 20) - Sougo tortures Hijikata and Gin; Eating Nmaibo can make you full in no time (ep. 64) - A day in the life of Zura.
Favorite character: Sougo
:: He's evil and violent and sarcastic and cute. What more could anyone want?
Runners up: Otae (see above, though she's slightly less evil); Sadaharu (he looks like my own dog, but huger); Otsu (she's delightfully insane, number four armbar)
Favorite character pairing: Sougo and Hijikata
:: Sougo's seething hatred for Hijikata is persistent, inspired and hilarious.
Runners up: Kagura and Sadaharu (that scene in the park, where he's attacking her and she thinks he's playing is pitch perfect); Sadaharu and strawberry milk (it was only one episode, but it was a good combo); Gin and Otae (She's terrifying)
Favorite running gag Sadaharu chomp
:: Never stops being funny.
Runners up: Hemmorrhoid ninja getting hit by Gin's scooter (never not funny); Sougo firing missiles at Hijikata (never not funny); Otsu talk (never not funny, kentucky meat shower); Hijikata and mayonnaise (disgusting, ugh, but never not funny)
Favorite fight: Shinpachi vs. hentai ninja
:: He did not come out of that one well.
Runners up: Kick the can (a perfect combination of humor and violence; low stakes, high intensity); Odd jobs and Kagura's dad vs. alien (easily my favorite large scale battle; sure, the world's in danger, but the heart of it is Gin fighting to keep the odd jobs together)
Final verdict:
:: Damn, Gintama is fun.